e-learning
noun
learning conducted via electronic media, typically on the internet
Have you done an online course recently? Were you working on endless text and exercises without interacting with real people? Can e-learning be engaging, interactive, multidimensional? Can it include live sessions? Could you really become fluent in a language with a self-access course?
Well, yes, it seems so! As a language coach, this took me a while to get my head around! After all, fluency is something people learn through live interaction, right? Well, I've spent the last 6 months or so creating an English Fluency course on the Thinkific platform. My experience was it's all down to careful course design, best use of available technologie, blended with some live coaching. I thought I'd share some insights.
So, why e-Learning?
I hope I'm not stating the obvious here but learners/clients demand flexibility in pace, style and location of learning as well as cost. We have everyday technologies now that can deliver on versatility and inclusivity at a low cost. Of course e-Learning training is naturally scalable. It can also take the heavy lifting out of training by guiding learners towards content and skill building processes for independent learning. The task is to design the modular elements and instructions that a diverse range of learners can easily follow. Another benefit is that real-world, real-time, person-to-person activities can be included to motivate and keep learners focused and on track. Examples are user and tutor-led forums, apps to self-record and submit spoken pieces, embedded live zoom sessions.
Challenges
So, I started off with a lot of ideas and material in my head that I regularly use with coaching clients and wondered how they might be recreated for the e-learner. This looks very challenging at first if you're aiming for quality content focused on outcomes like speaking fluently and confidently.
The quality of the advice and instruction given by Thinkific and the versatile range of ways to present material and exercises were key for me. E-Learning technologies offer huge benefits for dynamic course design with video presentation, audio clips and quizzes, forums for interacting with other learners. For example, I was easily able to create an end of lesson quiz using audio questions to test fluent understanding.
Blended learning
So, does that mean I've abandoned my coaching career? Well, no. One of the great things about e-learning is that it's easily blended with traditional face-to-face training. When I say traditional, I refer to face-to-face whether live online or in person (thank you zoom!). It's easy to embed a live session using webinar apps and bookable sessions via online calendars. By creating modules that build skills step by step, adding live elements for milestone assessment, the learner is guided and supported on their fluency journey. Of course any online course can be a warm-up for more intensive live coaching too.
The User experience – Lessons in diversity and inclusion
The various presentation methods available on e-learning platforms allow you to design your course to suit a range of learning styles (visual, audio, self-recording). I tend to add the text below video presentations so learners can use each separately if they wish. I don't want to overload with audio, moving visuals and moving subtext at the same time.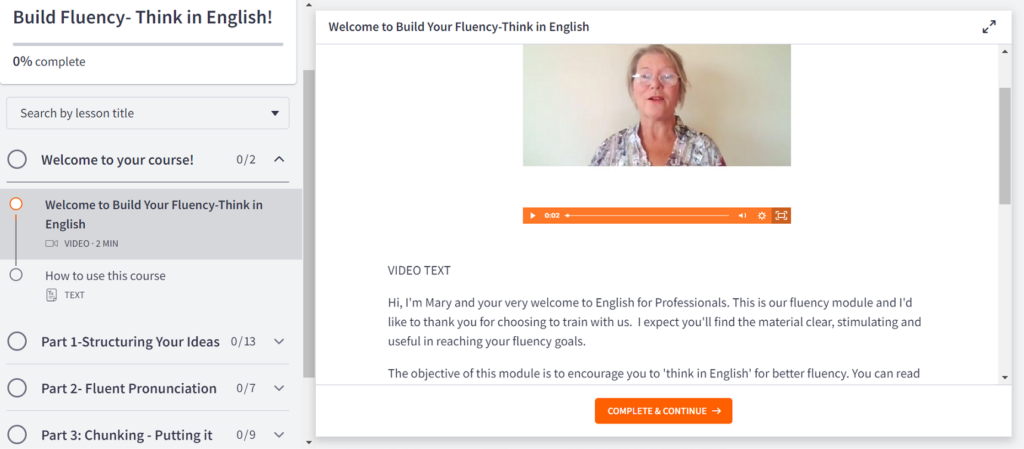 For me it was also important to create a personal connection with learners through welcome videos and introducing some more complex concepts via video instruction. If they run into difficulty during the course they can email me, use forums or book live sessions via the platform itself.
The other key insight that enabled me to create the course was an awareness of how important detailed logical steps are, particularly for some learners. The process of designing each module was a significant piece of work that required thinking differently. I needed to break down my face-to-face intuitive instructions, building the elements into a sequential program. I then created step-by-step instructions and graduated exercises to build fluency. In the process, I came to a better understanding of those processes I use with students every day. Creating e-learning modules has been a great teacher for me in terms of deepening my faith in my methodologies, simplifying them for ease of use for a diverse range of learners.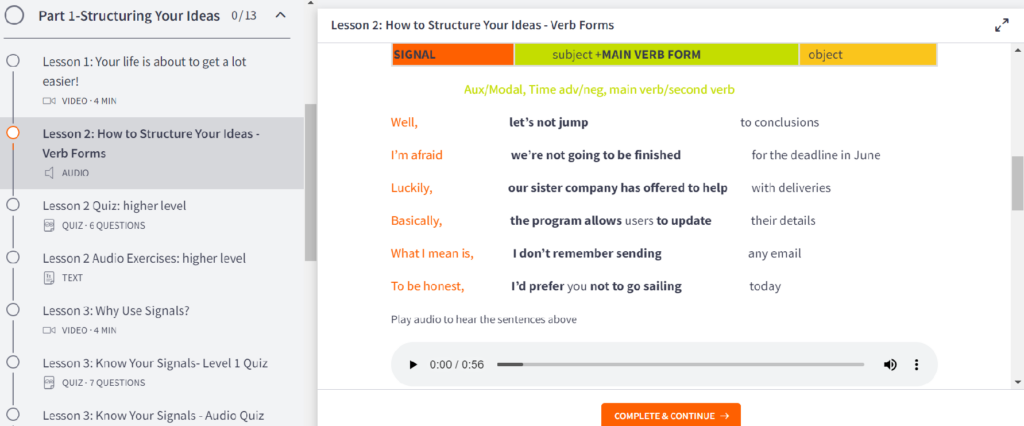 You'll find the course program for Fluency in English at this link: https://english-for-professionals.thinkific.com/courses/englishfluency